RTI documentation made easy
RTI documentation
made easy
Focus on students instead of paperwork.
"Finally, a program developed by teachers!"

Teachers wanted a program that was simple and streamlined.
RTI Rails was developed by both elementary and secondary teachers.
"You have developed a great tool for educators!"

— JW, Program Specialist at Selma Street Elemenatary School
"It's a great program and we use it everyday."

— ZB, Principal at Slocomb Middle School
"We are loving the program and having great outcomes."

— EJ, Teacher at Heard Magnet School
"We LOVE Rails!!! Thank you for working with us!"

— SO, Program Specialist at Dothan City Schools
"Your strategy for development is obvious in that it meets what teachers need versus what someone wants us to do. Thanks!"

— TW, Principal at LE Willson Elementary
"I love the ease and effectiveness of Rails."

— DS, Assistant Principal at WS Neal Elementary School
"We are all learning and loving your program!"

— TS, Instructional Coach for Slocomb Schools
"We are thrilled with the purchase of RTI Rails!"

— HM, Elementary Curriculum Specialist at Eufaula City Schools
CREATE STUDENT PLANS
Select from a library of evidence-based plans or created your own. An easy-to-complete template houses all the information necessary to create a student intervention plan including demographics, current data, vision and hearing screening, and other relevant information.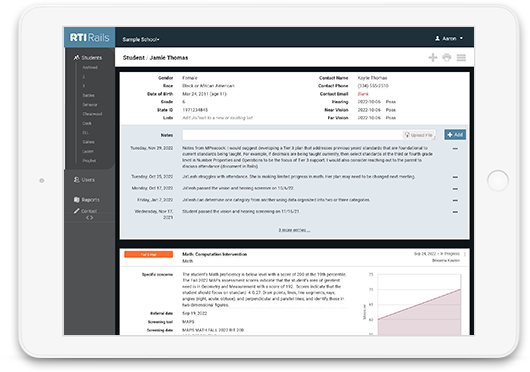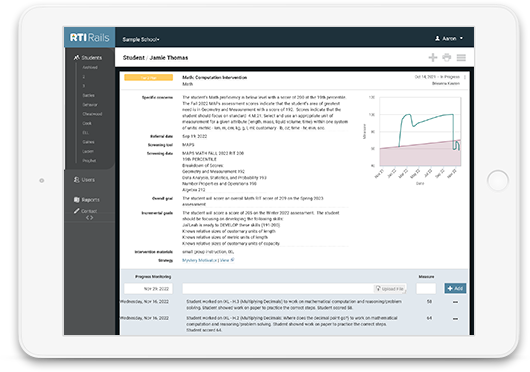 DOCUMENT PROGRESS MONITORING
An easy-to-use data entry log allows teachers to document each session by entering session details and grades. Grades are automatically displayed on the graph providing a visual of progress made in relation to the aim line.
AUTOMATICALLY GENERATED REPORTS
Administrators and teachers will no longer need to spend valuable time creating reports to send to their district office. Reports are generated as information is added to each student report.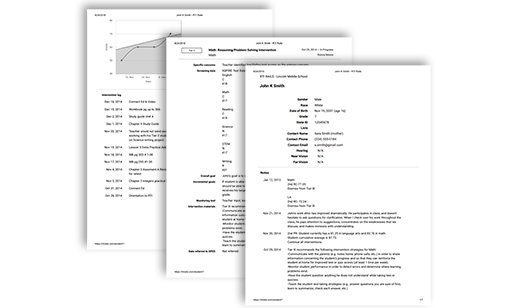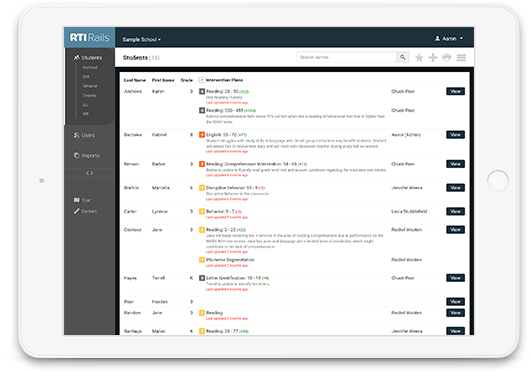 ADDITIONAL FEATURES
Upload student work and other files to attach to student records.
Organize students into custom-made lists (eg. Health plan, SPED, etc.)
User permissions allow tight control over who sees certain records.
Transfer records to other schools using RTI Rails with a few clicks.
Transfer nicely-formatted printed records to schools not using RTI Rails.
User-friendly and does not require expensive professional development.